Per my SparkFriend FRESHSTART2011's blog a few weeks ago, I decided to try the recipe she posted for Kale Chips. I baked them, but I did omit the salt. In my convection oven they only had to bake about 12-15 minutes total. Very crispy, and I really liked the garlic flavor!
I had a grilled chicken sammy on a multigrain sandwich thin, with 1 oz skim mozzarella melted on, and a tomato.
Added a tall cool glass o' water and a hot mug o' green tea.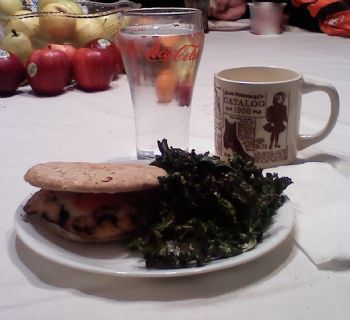 I have had them again since I made this meal.
I have tried a couple of variations:
1) I sprinkled on Goya Ham Seasoning ( a zero points plus value)....with TASTY results!
2) For a spicier version, I used Cayenne Pepper along with the garlic powder.
3) I am going to also try to substitute another green in place of the Kale. (i.e. fresh spinach or fresh turnip greens)
This is a nice pairing for most any sammy you can whip up!
This is even a great option for those who are watching or counting carbs.